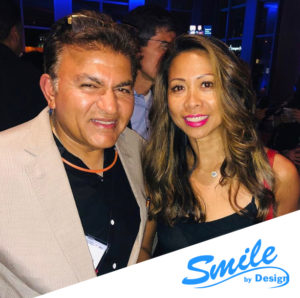 With 1000's of temping shifts completed through TempStars since dental offices reopened, we wanted to dig in and find out how things are really going for our members post-COVID. In this series of interviews, we chatted one-on-one (virtually!) with some of our dental hygienist, dental assistant, and dentist members to hear about their real experiences returning to work in the "new norm".
In this interview, read our discussion with our valued members Dr. Narang and Eileen Villanueva RRDH of Smile By Design as they discuss how they found success in safely reopening their office post-COVID.
---
TempStars (Ashley):
Tell me a bit about your practice!
Eileen Villanueva RRDH:
This office (Smile By Design) has been here since 1984. We're at Dundas and Hurontario in Mississauga and it started off as a three operatory office and now we have seven. I'm a Restorative Dental Hygienist; I started here as a dental assistant, then I went back to school to study dental hygiene. As a dental hygienist here I did continuing education for dental hygiene orthodontics and helped start the ortho program here. I then went back to school for restorative dental hygiene and graduated in 1999, and since then that's all I've been doing is restorative [hygiene]. Our office is multi-disciplinary, we provide orthodontic care, we have a periodontist, and we provide wisdom tooth removal and oral surgeries. As well, one of our associate dentists is a clinical professor at the U of T dental faculty. Dr. Narang himself has been president of the Toronto Academy of Cosmetic Dentists and Board of the American Academy of Cosmetic Dentists. Along with his over 30 years as a dentist, he has additional education and experience in dental implant placement and surgeries. Along with general family dentistry he enjoys providing cosmetic dentistry treatments. Basically we are an all-around, everything kind of office. Dr Narang has a second location by Square One, Limelight Dental.
TS:
How long has your office been using TempStars?
E:
I believe we've been using TempStars for four years. We were using different temp agencies, but now we use TempStars because the app makes it a lot easier. I, myself, have used it on the other end where I'm looking for dental jobs just to try out, as well as other hygienists here who also use it if they want extra work here and there. So, I see it from both sides and I think it's a great app. Actually, I love it. Before, it used to be emailing and phone, but since I'm seeing patients at the same time, so I'm not always able to check my email or take a phone call. Whereas [with TempStars], you get alerts and you get to just check it at your leisure. It's very convenient.
"We were using different temp agencies, but now we use TempStars because the app makes it a lot easier."

-Eileen Villanueva RRDH
TS:
How long has your office been re-opened?
E:
We closed March 18th and then we opened in the beginning of April just for emergencies. Then the office fully opened when the RCDSO said we were allowed to, that was June 7.
TS:
What did you do when offices originally closed back in March?
E:
We basically had a month off; but after that, we were doing research all the time. We were taking courses online, reading stuff, looking at what Saskatchewan and other people were doing and what their governing body was giving them for guidelines. We figured okay let's start researching and figuring out where we can get the things [we need] because once we're allowed to open, everyone's going to ask for these things – which is basically what happened. We said if it's too much, it's better than too little. It's better to be over cautious than not and it's better to have all the things here instead of not having it. Basically, during those months that we were off, we weren't really off.
"I want to be a leader as opposed to a follower."

-Dr. Arun Narang
TS:
What other measures did you take to prepare your office for re-opening?
Dr. Narang:
My whole principle in doing dentistry is that I want to always be ahead of the pack and providing a more comprehensive service. I want to be a leader as opposed to a follower. So, we decided we wanted to put doors on all of our rooms, and we wanted to upgrade our HVAC and have better air quality throughout the office, and then we wanted to put the HEPA air filtration units…which we did. Between those major three changes and the smaller changes [like] shields at the front, social distancing, protocols having less people in the reception…we were feeling confident in opening. And we would make changes as new guidelines came out such as having our rooms certified with HVAC specialists because we wanted to have that surety for the hygienists that we could turn over the rooms. We also created 10-minute intervals between patients…I think patients and staff appreciate that.
TS:
How did you prepare your staff to come back?
E:
During the time we were off I would probably email [our staff] every 2-3 weeks and say "hey this is what we're reading" and send them articles. [We were] keeping in communication so that by the time we were ready to reopen, we had given them a list of all the things we were researching and planning [so] they would understand the things we were doing to keep everyone safe. That to me was more important; keeping the staff in the loop was one of the most important things. If you don't have them, you're not going to be able to open, and everyone has to feel safe to come back and understand what we have to do.
"Keeping the staff in the loop was one of the most important things."

-Eileen
TS:
How did you navigate re-opening when it was eventually allowed?
Dr. N:
When we saw what the hygiene guidelines were and what our guidelines were and the dichotomy between the two…we thought, that's not good. At the end of the day, we work together, everyone has to feel safe, everyone has to feel comfortable. Even if things weren't mandated, we felt that we needed to do something to bridge the gap between what our Association was saying and what their Association was saying.
TS:
How has it been since you've reopened?
E:
When [our staff] came back, we trained them the week before, we had a zoom meeting with each of the departments – so then everyone felt comfortable. Even though they were still cautious and maybe a little scared, they still felt comfortable to at least come and try. One of the things we did was when we booked patients, we book them a little bit longer and we put 10 minutes after each person. We had all our rooms certified, so then we knew we didn't have to wait an hour and a half for the room to be done. In addition, we had the HVAC tube and air exchangers redone, so that made our room exchanges to be less than five minutes… We still keep all those 10 minute intervals between patients – as there are still many things to do, for example staff have to change in and out of their PPE, we need to spend more time with the patients to explain things and screen them and other new protocols to follow as well as our already existing ones.
Part of our new protocols is screening the patients and screening the staff and keeping a record of everything. We also have a protocol for contact tracing where if somebody comes in who is not a patient, but is coming in to do maintenance or deliver something, we take note of who it is…. In general, I think the staff, after we got into our groove with the new things to do… started feeling a lot better, and things are kind of almost at full right now.
TS:
How have you been able to integrate your temping staff into that process?
E:
With the temping staff, it is very important to let them know what our procedures are for their safety and others before they come in, then they know what to expect, we also want to make them feel safe. We use the TempStars messaging feature specifically for this-which I love! I have a pre-written message that I paste and message the hygienist or assistant to communicate. I think it's amazing because I'm not looking through my phone texting or emailing, I go straight to TempStars messaging and it tells me who I've talked to and what I've said – so that makes it easy. I cut and paste messages about everything to do with the office, for example-where to park, what we expect of them with new covid rules…what's in the facility…what [PPE] we have for them. We also ask them to come in beforehand to spend an extra 30 minutes ahead so that they can familiarize themselves with our office and the protocols. So that's kind of how we incorporate them into the team. If it was me, I'd want to know all of these things before I go.
TS:
How have your patients and appointments been doing since you re-opened?
Dr. N:
Everything has been going pretty well, better than I expected. Quite honestly, I've been practicing for 36 years…and never really been through anything in my career where we're on the sidelines for that long. It's something kind of unusual, unexpected, and at the end of the day you don't know how you're going to return from it. We had so many patients who were suffering during the shutdown, they were calling me and it was difficult not being able to help them…so once we had the PPE, we decided to reopen. A lot of other people still were looking dental care, desperate, sometimes unable to get into their dentists – so we actually had a lot of new patients join us during that period of time. Everything's going smoothly now. We're actually doing better than we were pre-COVID.
TS:
Would you attribute how well your office is doing to the fact that you "over-prepared" as you said, as early as possible?
Dr. N:
Yeah, we kind of stayed open and had our receptionists reschedule patients too so it wasn't like anyone couldn't get through to us. We were calling them, postponing their appointments maybe 2 times or 3 times, but we were getting them back in the books, getting them rescheduled. The fact that we were open and they could talk to us helped us get a quicker restart because we weren't starting from nothing.
E:
Plus, we ordered lots of things beforehand.
Dr. N:
Yeah – we were prepared. Over-prepared. We actually got featured on Global TV and I did a little story on what it's going to be like to be back at the dentist after COVID. I think, with our social media, our patients felt assured that when they came back we were going to keep them safe. I honestly feel like we're safer here than if I'm going to the grocery store because I've got a HEPA air filter in every room turning over the air every 3-4 minutes, along with all of the other changes. It's the cost of doing business, but at the end of the day I think our staff feels safe, the doctors feel safe, the patients feel safe. And that added confidence has led them to come back in strong numbers.
"It's the cost of doing business, but at the end of the day I think our staff feels safe, the doctors feel safe, the patients feel safe."

-Dr. Narang
TS:
What was the most important thing to you when you were conceptualizing reopening?
Dr. N:
Getting my staff on board, getting them feeling comfortable to return, so that they felt they were returning to a safe environment. Some of them were sitting on the fence, they were scared, understandablt. So it was really making sure my staff felt safe, and if they felt safe, they'll be advocates for all the patients.
TS:
What advice would you give to other dental offices reopening?
E:
I still hear of some situations where a hygienist is still waiting an hour and a half between each patient… The initial cost is not cheap to get the room certified, to buy the air exchanger or the HVAC change. But, in the long run, it's actually worth it. We've earned it back, whatever we've spent. Who knows how long this is going to be? This may be the new normal, so one piece of advice is to invest in your office. Another piece of advice is stay in contact with your patients. This is thing we did, communicating with patients about what we're doing – by having someone answer their calls during covid, sending out information of what we were planning on doing to keep everyone safe through emails and social media. They see all the changes in the office and they feel safe coming back. Training your staff properly helps a lot because it conveys to the patient the confidence the [staff] has working safely in the office. If they feel safe, the patient is going to feel safe.
For using TempStars, my advice is use them, and I would advise them to use the messaging app write a blurb that welcomes temps to the office and give them information about the office, COVID protocols – it's easy. Just copy, paste, and send it in a message… Use the messaging system – it's amazing. I think it's one of the best things TempStars put on the app.
Dr. N:
At the end of the day, if people want their staff and patients to come back to an environment where they did very little changes….I wouldn't feel that safe. If there's only less people in reception, acrylic shields at the front desk, social distancing stickers – to me, that's not enough. I went overboard. I did a lot of things I didn't have to do. Nobody was mandating me to have all of my HVAC redone, dedicated air returns to every room, doors on every room. We created a donning area and doffing area, moved the lockers around. We did all the little stuff, but then we did the big stuff too. With the way we're doing it, we're seeing maybe one less patient per day for hygiene as a result but at the end of the day that doesn't matter as long as we are providing the quality care in a safe environment for staff and patients, and we are still open.