Simple Pricing
No activation fee, no monthly subscription – and NO HIRING FEES!  You're welcome.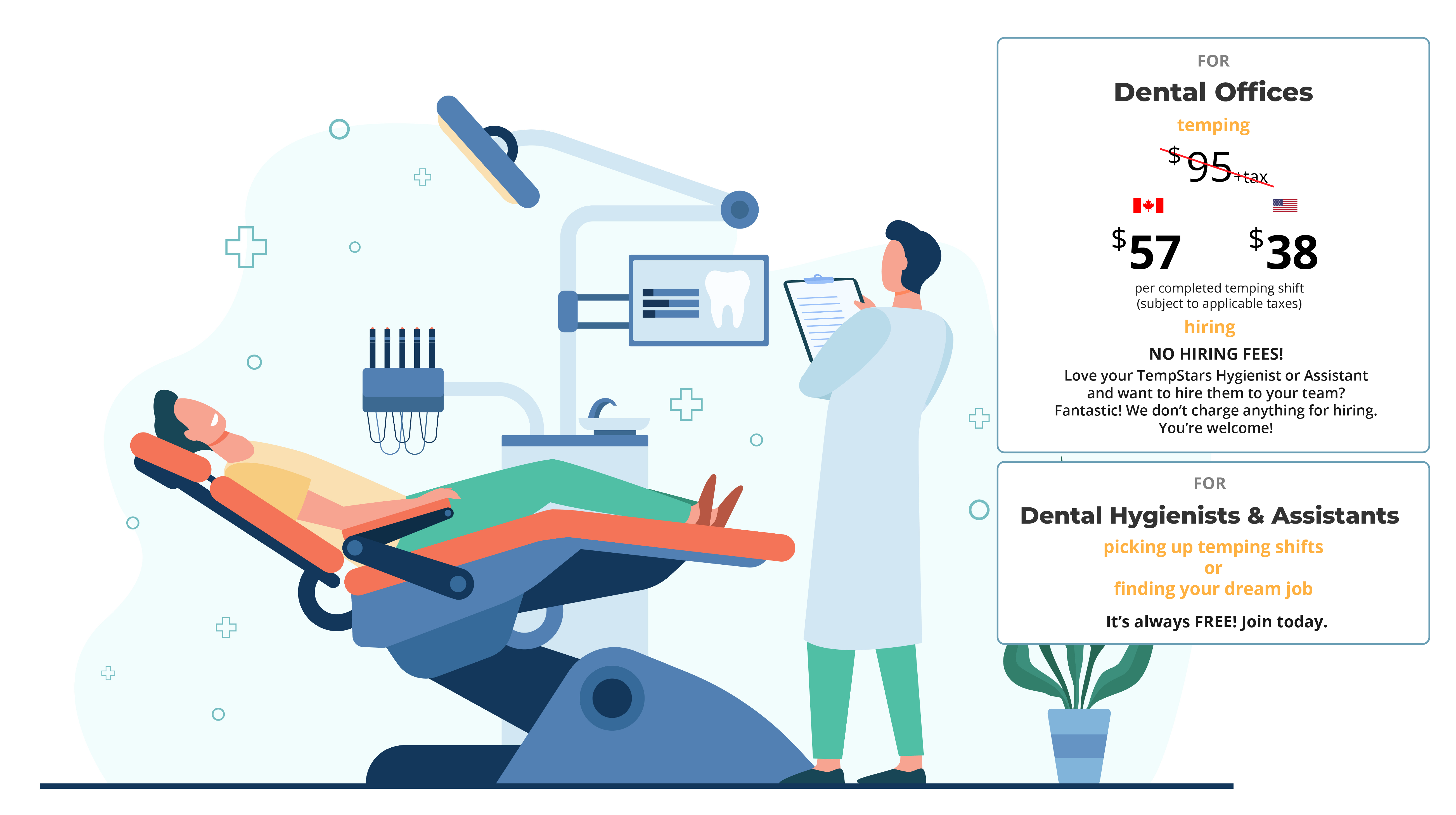 TempStars helps Dental Offices solve dental temping and hiring needs without the hassle of an agency and huge hiring fees. Whether you need a dental hygienist or dental assistant, TempStars can help you!
Certainly, TempStars pricing is simple. Dental offices only pay after the completion of a successful shift.
Looking to fill a permanent or contract position on your team? Access and post your job on TempStars Job Board. It's easy and free!
All payments are made by credit card and will be processed through Stripe Payments. Stripe Payments is a world leader in online credit card authorization and payment processing. Any private information that you submit is sent directly to Stripe Payments using bank-level security encryption. In other words, nobody has access to your information, not even TempStars.
Your credit card security is important to us.
TempStars Professional Responsibility
Above all, it is TempStars priority that dental offices, dental hygienists, and dental assistants consistently experience reliable, happy matches. As such, the expectation is for dental offices, hygienists and assistants to honour their commitments with consideration for the impact that confirmed arrangements have on the other party. Active registration and participation by all members and clients on TempStars is at the sole discretion of our administration. We carefully monitor and track every cancellation of confirmed temping shifts by either party. Because of the huge negative impact cancellations have on our community of dental professionals, members and clients that demonstrate habitual cancellations will be removed. Similarly, patterns of negative feedback may also result in removal from TempStars.
Member experience and happy matches are our top priority – we carefully monitor and manage our membership to ensure everyone on TempStars conducts themselves according to TempStars Values of Respect, Reliability, Professionalism and Clinical Excellence.  
You only pay after a successfully completed shift.
Questions? Check our FAQ.