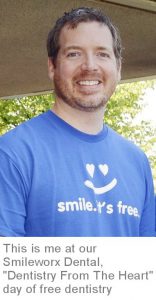 Hello and welcome, I'm Dr. James Younger, University of Toronto Dentistry graduate of 1999.  I've spent most of my career in private practice, although I'm currently practicing in a hospital setting, serving patients with mental health needs.
The idea of TempStars started out one 6am morning in early 2015 when I awoke to a text message from one of our team hygienists saying she couldn't make it in.
I immediately got that tightness in my stomach as my mind raced about how to handle the situation.  This hygienist had a full day of patients starting at 8am, and of course no one was in the office this early.
Do I race to the office immediately to start calling the patients before they're on the way to their appointments?
After a frantic stressful morning, it occurred to me that with modern mobile technology, there has to be a way to connect dental offices directly with hygienists in these situations, to take the stress out of trying to fill this void.
It further occurred to me that such a system would also allow hygienists to lead flexible professional lifestyles, using the app to fill in any days and hours that they want to work.
And after nearly 2 years of dedication and hard work, TempStars was born with a commitment to truly being the best way to consistently connect dental offices and hygienists quickly and easily.  And due to high demand, we have extended our service to provide Dental Assistant placements as well, and really great Job Board.
TempStars was created for two purposes:
 To alleviate stress by giving dental offices a way to find a good hygienist or dental assistant quickly and easily

To provide a way for good hygienists and dental assistants to live a busy, flexible, empowered professional lifestyle
Everything we do and every decision we make is focused and dedicated to this vision.